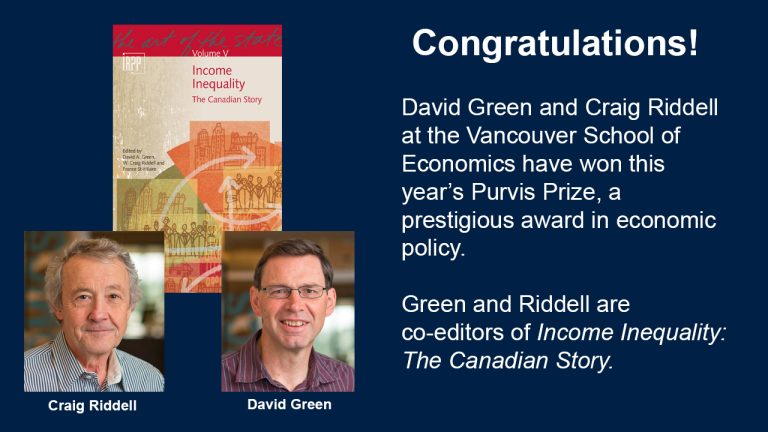 UBC's Craig Riddell and David Green, alongside France St. Hilaire at the Institute for Research on Public Policy, are this year's winners of the Purvis Prize for their book, Income Inequality: The Canadian Story.
The Purvis Prize is awarded annually to the authors of a highly significant, written contribution to Canadian economic policy. In addition to editing the book, Craig and David both contribute chapters, as do other members of the Vancouver School of Economics at UBC: Thomas Lemieux, Nicole Fortin and Kevin Milligan.
The award was established in 1994 in honour and memory of noted Canadian economist Doug Purvis who spent his professional career at Queen's University. This is the second win for both Craig and David; Craig won the first year the prize was awarded in 1994 and David in 2007. Previous VSE winners include Rhys Kesselman, John Helliwell, Brian Copeland and Scott Taylor, Erwin Diewert and Kevin Milligan. The award was presented in Antigonish, Nova Scotia at St. Francis Xavier University this past weekend.
For more on the Purvis Prize winners, click here.