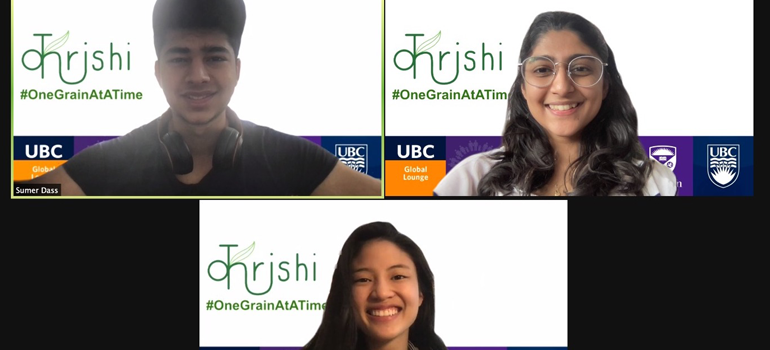 Gupta (top right) and her teammates will represent UBC at the World Challenge Challenge in June.
A third-year Bachelor of International Economics student is part of the winning team at the World Challenge Challenge, a presentation competition held earlier this year by UBC Global Lounge for students to tackle and propose solutions for global issues.
Anushka Gupta and her teammates received the $6000 top prize and will represent the university at the virtual International World's Challenge Challenge in June, where they will compete for $30,000.
Gupta, who is originally from India, decided to use her knowledge of the current farmer's protests there to develop an app called Krishi for the competition.
"Krishi aims to increase farmer productivity while bridging the gap between the Mandi, the market makers, and the kisaan, the farmers," said Gupta. "Through three key features, a transparent pricing mechanism, a micro financing platform and a central information database, Krishi will revolutionize the Indian agricultural sector one grain at a time."
This app will provide a platform for the Mandi and farmers to directly either input prices or receive them. This information of prices will provide a form of aid for the farmers. Gupta's team argued that this would reduce misinformation and create an efficient market where information is available and accessible to everyone.
"We're planning on using the $6000 prize money towards our research and development of the app," said Gupta. "We need to reach out to software developers, increase the size of our team, and start our branding process."
Gupta credits her successful pitch to the knowledge she gained in the BIE program.
"As a part of an accelerated program like BIE, we are taught about not just how economic models work theoretically, but also about its applications in real life through case studies and research on several topics which affect the social systems in developing nations," said Gupta. "This competition was the perfect platform for me to actually apply my learnings from class in a real world scenario and test out the implications of reducing the knowledge gap on efficacy of the agriculture markets."